Hello MycoFriends!
We hope you are enjoying summer! And oh my, a summer drizzle!
Please find link below to the current newsletter for your personal use.
SPORADIC PRESS JULY 2023
Reminder that there is no regular Monthly Monday Meeting on August 7th, 2023.
In lieu of our monthly meeting we are having our August summer event. Capacity is very limited, so please sign up ASAP!
We have some fun(gi) planned, so please stay tuned for more info and details on our events and classes. This is our third year of having summer activities, once a month from June through September.
Monday, August 7, 2023 – Chef Darren Debergh Koji (Aspergillus oryzae) Workshop
5:30pm – 8:30pm
$50/person
Members only, registration required
Register HERE
Learn the basics of koji with this make & take workshop!
Workshop Agenda
5:30 PM – 5:45 PM Arrive & Check-In
5:45 PM – 6:00 PM History of Koji
6:00 PM – 6:30 PM Safety practices
6:30 PM – 8:00 PM How to prepare/make koji, uses, finished products, tasting
8:00 PM – 8:30 PM Q & A
Teacher Bio
Darren Debergh is an internationally renowned chef who has captivated the culinary world with his innovative and inspired dishes. Born in Windsor, Ontario, Darren developed a passion for cooking at a young age, teaching himself the art of creating delicious and visually stunning dishes.
Despite his lack of formal culinary training, Darren's talent and passion for cooking quickly caught the attention of food critics and diners alike. He gained recognition for his unique style and flavor combinations, drawing inspiration from his travels and experiences.
In 2013, Darren made the move to San Diego, where he joined kitchens the likes of: Searsucker, La Villa, & Bleu Boheme. Currently Darren is part of the team at Wild Thyme Catering. His expertise in the culinary arts and his passion for using locally sourced and sustainable ingredients have helped establish the catering company as one of the leading providers of gourmet catering services in the region.
In addition to his work at Wild Thyme Catering, Darren also serves as the head of research at D Squared Concepts, a cutting-edge food fermentation company. He uses his extensive knowledge of flavor profiles and culinary techniques to develop innovative new products that are changing the way people think about food and fermentation.
Darren's passion for cooking and his commitment to using sustainable ingredients and practices have earned him numerous accolades and awards, including gold medals at prestigious culinary competitions such as Gold Medal Plates.
Today, Darren Debergh is widely recognized as one of the most talented and innovative self-taught chefs of his region. His work at Wild Thyme Catering and D Squared Concepts is helping to shape the future of the culinary arts, and his expertise and passion continue to inspire food lovers everywhere.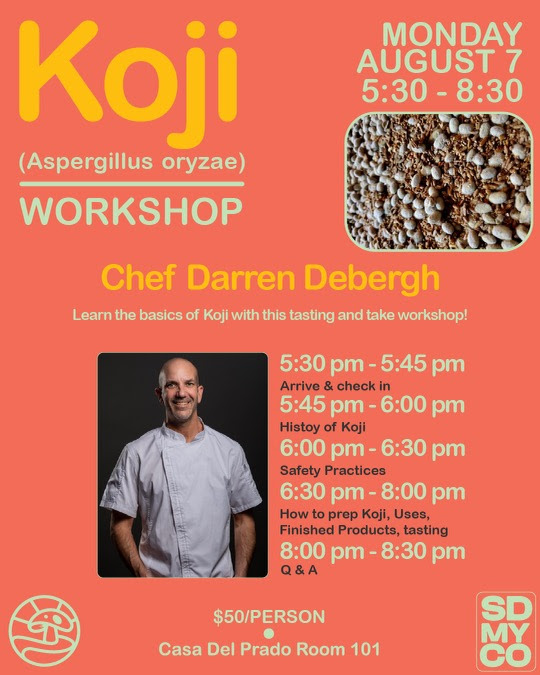 SDMYCO UPCOMING SUMMER WORKSHOPS:
Friday, September 15, 2023 – Summer Workshop
5:30 – 8:30pm: TBA
SDMYCO UPCOMING 2023 – 2024 SEASON:
Monday, October 2: Monthly Meeting
6:45pm Identification
7:00pm Lecture with Matthew Meyer – Ohio State University PhD candidate
Monday, November 6: Monthly Meeting
6:45pm Identification
7:00pm Annual Board of Directors Elections & lecture TBA
Monday, December 4: Monthly Meeting
6:00 – 8:30pm
Annual Potluck and White Elephant Gift Exchange
Mush Love,
SDMYCO
Appalachia NAMA 2023
NAMA's 62nd Annual Foray, this year in beautiful Hendersonville, North Carolina
AUGUST 24 – 27, 2023 // HENDERSONVILLE, NORTH CAROLINA
The post
Koji Workshop – August 🍄 summer event!
appeared first on
San Diego Mycological Society
.
The post Koji Workshop – August 🍄 summer event! appeared first on San Diego Mycological Society.