San Diego Gas & Electric has been delivering San Diegans their power for almost 150 years. On top of their work providing around 45% clean energy to homes and businesses in this region – compared to an average of 8% nationwide – SDG&E supports many local nonprofits organizations that are working to improve the environment. This year, SDG&E and the San Diego Padres are Going to Bat for San Diego, and teaming up to support I Love A Clean San Diego and celebrate Coastal Cleanup Day.
As a special thank you to volunteers that Go to Bat for San Diego, SDG&E and the Padres are recognizing Coastal Cleanup Day participants with a Volunteer Appreciation Night at the Padres game on Monday, September 17. Coastal Cleanup Day volunteers receive a promo code to purchase discounted tickets and be recognized for their accomplishments in keeping San Diego clean.
The 34th annual Coastal Cleanup Day will bring thousands of volunteers together on September 15th to beautify more than 100 beaches, parks, and other outdoor spaces throughout the region. Over the past 17 years, SDG&E has helped support I Love A Clean San Diego's Coastal Cleanup Day efforts with the participation of thousands of employee volunteers! We are pleased to highlight two SDG&E heavy hitters who have stepped up to the plate to serve as site captains for Coastal Cleanup Day throughout the years.
Crystal Yousef
Crystal has been an SDG&E employee for 15 years and a Coastal Cleanup Day site captain for close to 10 years. She can always be counted on to go wherever there is a need, and Coastal Cleanup Day has led her on expeditions to Encanto, Poway, Golden Hill, and Rancho Bernardo, among other places.
In her day job, Crystal works at SDG&E's Environmental Lab, which does environmental sampling and test analyses.  The Lab is certified to test for more than 500 chemical compounds, ensuring that SDG&E facilities are operating safely.
In Crystal's decade of service at Coastal Cleanup Day, she says her favorite part of the annual volunteer event is seeing kids' enthusiasm when they find a strange piece of trash. Whether it's a shoe, a stuffed animal, or even a bathroom scale, kids often burst with excitement recounting where and how they found it, and in some instances, even make up stories for what they think the item is. It's like trash show-and-tell.
Crystal also notes that she feels a sense of pride each year when she arrives at Coastal Cleanup Day to a sea of Team SDG&E volunteers outfitted in team t-shirts, which for many years were the two-toned tie-dye in the photo to the left. SDG&E and I Love A Clean San Diego are lucky to have folks like Crystal committed to ensuring a safe and successful cleanup for volunteers of all ages! This year, you can find Crystal helping out at the South Shores cleanup site in Mission Bay with Team SDG&E.
Hilary Haskell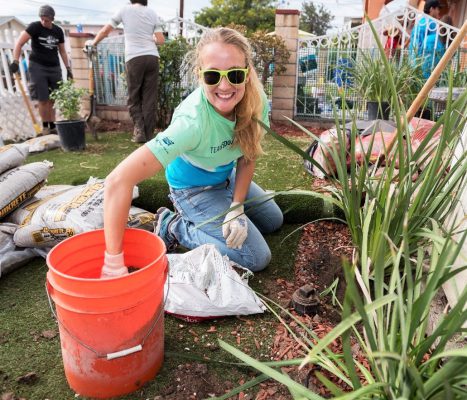 Hilary has been an environmental enthusiast from a young age. In fact, in high school she conducted regular beach cleanups, and in college she interned with another environmental nonprofit, Orange County Coastkeeper. Fun fact: during Hilary's internship, she helped to plan Kids' Ocean Day in Orange County, aerial art and all! That's the sister event to ILACSD's San Diego Kids' Ocean Day that occurs every spring.
Hilary joined SDG&E a little over two years ago and jumped right in with Coastal Cleanup Day. Last year, she led the San Dieguito Lagoon site for SDG&E, and this year you'll find her at the Paradise Creek site in National City. Aside from having a good attitude and strong leadership qualities, Hilary brings another attribute to her role as site captain…she knows a lot about the environment! At SDG&E, she makes sure projects like the placing of a new power pole, or even the removal of one, don't result in a detrimental environmental impact. She's also one of the company's leading sustainability advisors, helping to track SDG&E's environmental performance in key areas.
While Hilary hasn't been a part of Team SDG&E for very long, we anticipate that her involvement in Coastal Cleanup Day will continue for many years to come!
ILACSD is grateful for SDG&E's longtime partnership and the hands-on role team members take on to make sure we knock Coastal Cleanup Day out of the park!
The post Going to Bat for SD by Stepping Up to the Plate as a Site Captain appeared first on I Love A Clean San Diego.